This is the page we post all of the interesting things our staff and patients are doing that have nothing to do with dentistry. Enjoy!
Dr. DeWeirdt received a hand-carved statue of a Green Beret from Mr. Robert Perlot. Mr. Perlot is a Green Beret who served in VietNam. Thank you, Robert!
---
Our Goose family has returned to Hobson Dental this year. Mother and Goslings are doing well and have established residence in the pond across Woodridge Drive
---
The Hobson Dental "Tree of Life"
Our Tree of Life honors our Hobson Dental patients who have survived cancer. Each apple on the tree represents a cancer survivor. The tree was the brainchild of Patt, our office manager and a CA survivor. Hobson Dental is a supporter of the American Cancer Society.
---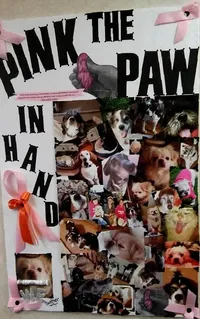 The Pink Paw in Hand
The "Pink Paw in Hand" campaign was created by Hobson Dental's office manager, Patt Snyder. A unique twist on raising awareness for breast cancer awareness as well as local animal rescues. For seven months, Hobson Dental collected dog collars, treats, blankets, and toys. When the campaign came to a close, Dr. DeWeirdt made several donations to carefully selected animal shelters along with The American Cancer Society.
---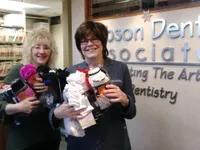 A Stitch in Time
The "Stitch in Time" charity campaign was a success! Hobson Dental was able to collect socks for the homeless as well as donate $5 gift card's to McDonald's. Socks are known to be the most needed item and several Hobson patients were happy to donate to the cause! along with the socks, the $5 McDonald's gift cards that were donated provided the less fortunate a warm place to go as well as a toasty cup of coffee. Thank you to all patients who donated and to office manager Patt, for another successful charity campaign!
Warrior Wally
An unfortunate circumstance just outside Hobson Dental brought out the best in humanity. Our office manager, Patt, was leaving the office when she saw a tiny dog had sadly been hit by a car. However, despite the awful situation, people from all around stopped their cars to help and protect Wally. Moments like that show how humanity can come together from all walks of life to help an animal or person in need. Thankfully, Wally proved to be a warrior and made a full recovery at home.