INTERESTING ART AND COLLECTIBLES AT HOBSON
Dr. DeWeirdt has collected numerous art and collectible items related to dentistry and Frank Lloyd Wright in particular. Many pieces are museum quality or one of a kind items and are for the enjoyment of his patients. The collection consists of prints, lithographs, original water colors, photographs, cartoon cells, posters, and wall plaques.
---
FRANK LLOYD WRIGHT RELATED ITEMS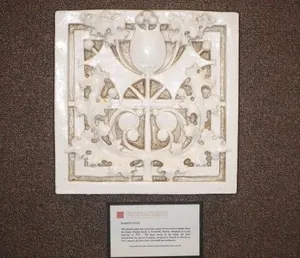 Babson House Panel (Reproduction)
This terra cotta panel is from the Henry Babson house (1907) located in Riverside, IL
---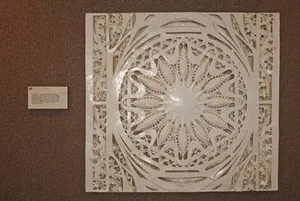 Garrick Theater Panel (Reproduction)
Designed by FLW and Louis Sullivan in 1892. This decorative motif adorned the balcony of the theater. The Garrick Theatre was demolished in 1962
---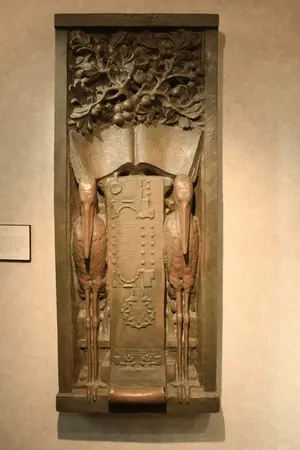 Stork Panel (Reproduction)
The stork panel (1897) is the primary design element of the Frank Lloyd Wright Home and Studio in Oak Park, IL. The stork represents fertility and good luck.
---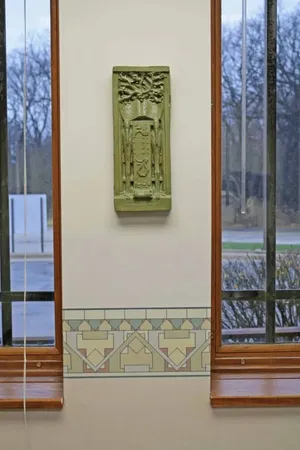 The smaller stork panels decorate each treatment room along with a reproduction wallpaper border from the Tokyo Imperial Hotel. The hotel was destroyed by fire in 1945. The small stork panels are not available commercially and were reproduced with permission from the Frank Lloyd Wright Home and Studio. The wallpaper is also a FLW design from the Imperial Hotel.
---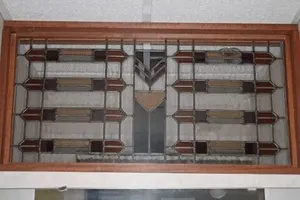 Original Art Glass Panels
There are 10 custom stained glass panels throughout the office. These panels feature elements common to many FLW stained glass panels. The common themes are the wheat sheaf and flowers. The horizontal elements are from the Robie House.
---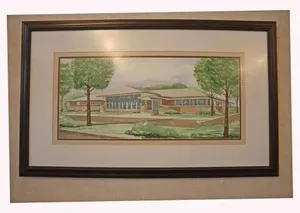 Original Watercolors
This original watercolor of the GreenRidge Professional Building hangs in the waiting area. These watercolors were painted by our friend, architect, and artist Robert Litvan.
---
The Robie House
---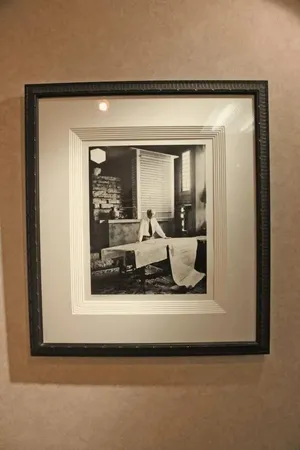 Original Pedro Guerrero Photograph
Pedro Guerrero was personal photographer for FLW for many years. This photo of FLWwas taken at Taliesin sometime between 1939 and 1941.
---
Prairie Lamp in Tiffany Style (Reproduction)
---
Posters and Prints
This Tokyo Imperial Hotel poster is from the New York Museum of Modern Art Exhibition in 1994
---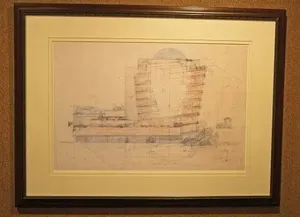 Gugenheim Museum of Art Blueprint Elevation Page (Reproduction)
---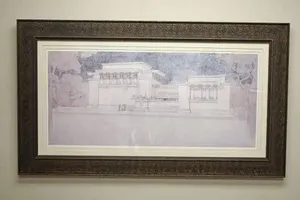 Unity Temple (Oak Park, IL) print.
---
"Falling Water" print.
No FLW collection is complete without this iconic architectural masterpiece.
DENTAL STUFF
---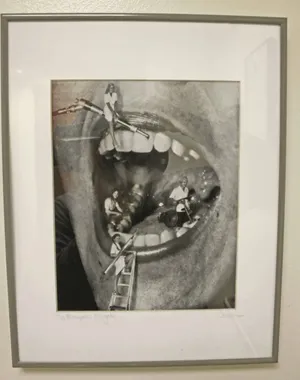 "Bicuspid Brigade" photograph.
This clever photo was done before the days of Photoshop and a copy hangs in many dental offices.
Photographer unknown.
---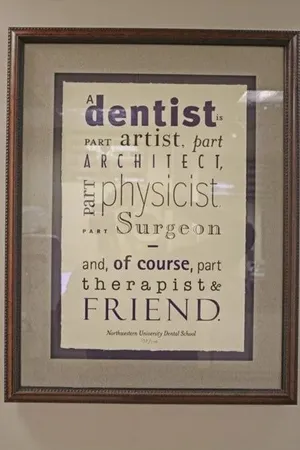 Limited Edition Lithograph commissioned by Northwestern University Dental School and given to select alumni.
---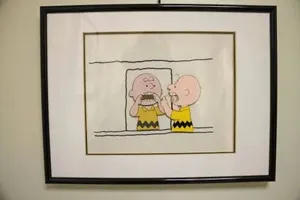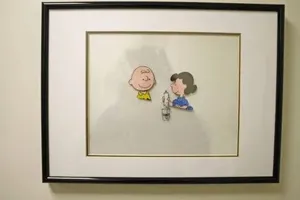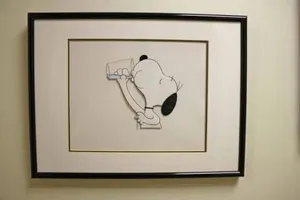 Animation Cells
These animation cells are from the Charles Schulz animated short "It's Dental Flossophy, Charlie Brown!" The short was commissioned in 1979 by the American Dental Society.
---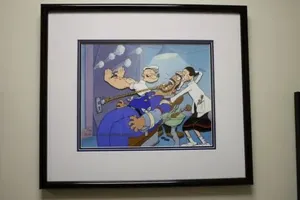 Popeye cartoon cell. We use more advanced techniques for removing teeth.
---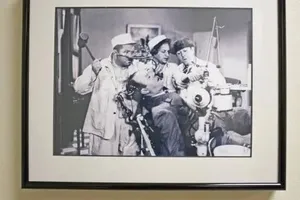 You gotta love the Three Stooges. Our anesthesia techniques are more advanced than Curley's.
---
Vintage Super Duck Comic Book.
---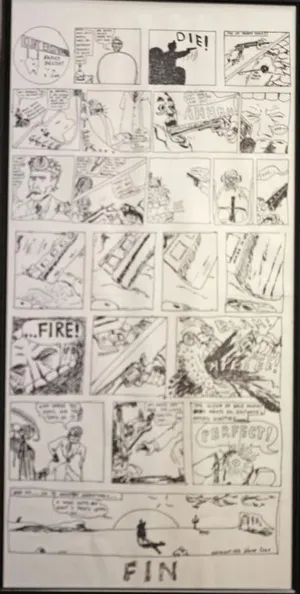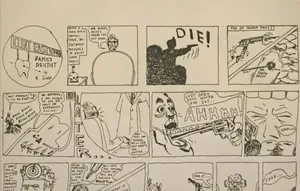 Clint Eastwood, Family Dentist Cartoon
This clever cartoon was penned by Dr. Wayne Sharf in 1976 and reproduced with his permission.
We do not practice or condone the dental therapeutic techniques demonstrated in these cartoons but they are pretty funny.